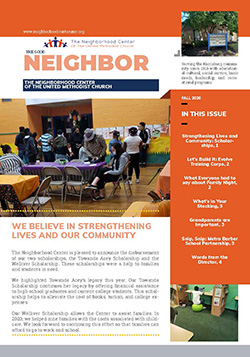 Fall/Winter 2020 | The Good Neighbor
We have worked hard to provide an enriching place for the families in our community. We invite you to take a look at the newsletter online. You can see the joy and hope The Neighborhood Center continues to bring to the city of Harrisburg. To view the Fall/Winter 2020 Newsletter, click the image or click here.
You can help make this a continual effort with your monetary gift that is tax-deductible. Every gift you give will directly benefit the efforts in this newsletter and more. Click the button below. No gift is too small, and each one touches a life and makes it better.